Guiding you
through integration
Explore tools, resources, and examples to
integrate Fortis into your software
With instant, invisible API integrations and customization to fit vertical needs, our platform seamlessly embeds into your existing software.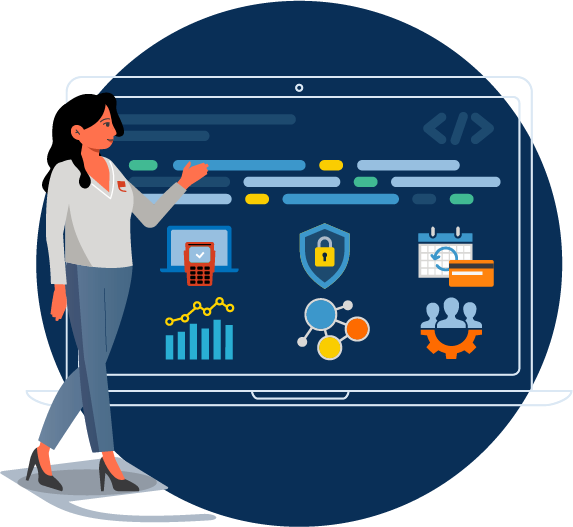 The Fortis Integration Experience
The Developer Experience
We know that the developer journey can often be intimidating and daunting. That's why our Fortis Guides work with you step-by-step until it's right. The Fortis Platform uses the Open API Specification (OAS) which is a standard language-agnostic interface to RESTful APIS.
The API documentation site supports multiple programming languages, real-time testing within the site, and SDK generation.
Features designed to ease development
Getting Started
A step-by-step tutorial for getting started with the SDKs, from installation to your first API call.
Authentication
Easily authenticate the client for making calls to the server.
SDKs & Code Samples
Code Samples are the quickest path to the first hello world, while SDKs lift the heavy burden of communication with an API.
API Console
Start making Live API calls with your input without writing a single line of code.
Why Fortis?
Trusted Partner
The Fortis Platform is built by developers, for developers.
Transformational Technology
Award-winning APIs make it easy for developers to integrate, and SDKs help power your integration quickly on our payments platform.
Exceptional Experiences
When you partner with Fortis, you get dedicated integration specialists and support, a resource center with documentation to help leverage our payments platform, and a partner portal with real-time analytics and data.
Begin the journey to a seamless payment process
Begin the developer experience
Begin your developer experience by selecting a programming language from the list below to access API documentation and Software Development Kits (SDKs).
Start testing
Open a test account by signing up on our Developer Portal. Our suite of sandbox tools includes a request inspector, sample code, and a team collaboration dashboard.
Recognized for our APIs
2018/2019 Account Boarding
2020 APIs Offered
2020 Overall API Assessment
2021 API Set
2022 API Set