Fortis combines the latest payment technology with industry-leading expertise to elevate your ERP and provide more value to your customers. Integrate our comprehensive solution with your business management software to optimize revenue with flexible payment and expandable, unique collections solutions.
Link your ERP with the latest payments technology.
Our Tech Partners
Streamline payments with a robust gateway.
Simple, Frictionless Integration
Fortis delivers unmatched support and our exclusive REST API integration to provide you with the technology and expertise necessary to quickly and seamlessly integrate a comprehensive payment solution for your clients.


Extensive Developer Support
Access developer-friendly documentation and test the entire experience in our interactive Sandbox to ensure all your needs are met before deploying. Get up and running in just a few hours with our dedicated integration specialists.


End-to-End
Experience
Create better payment experiences with our out-of-the-box solutions that offer industry-specific capabilities from a single source. Integrate flexible payment solutions directly into your partner's software to create a seamless end-to-end customer experience.


Connect, simplify, and secure payments across channels.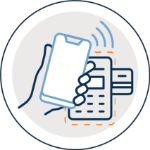 Omnichannel eCommerce Solution
Consolidate payment management for multiple locations and sell online using multiple eCommerce platforms through one interface—all synced to the same enhanced reporting. Our omnichannel processing enables you to lower your overhead costs and process payments: online, in-person, over the phone, through the mail, on-the-go, or with a Virtual Terminal
Quick, Convenient, Digital Invoicing
Get paid faster with digital invoicing. The comprehensive Fortis platform allows you to get paid through whatever channel is most convenient for your customer. Generate new quotes, convert to invoices, and track late payments all in one place. Set up recurring billing, automated updates to payment data, and customizable email reminders to accelerate payment cycles and make sure you get paid on time.
Support All B2B Payment Methods
Connect to EMV point of sale devices with our smart cloud-based solution that uses the latest chip technology to accept credit and debit cards at the counter including EMV and ACH for lower processing fees. You also unlock the ability to accept payments anytime, anywhere with a virtual terminal.
Process payments with the highest level of security.
Secure Transactions
Protect sensitive data with multi-layered, end-to-end encryption. Our industry-leading security technology incorporates PCI-compliant standards for reliable and safe payment processing. Safely set up recurring payments by storing tokenized buyer and supplier payment information and manage breach protection with P2PE solutions.
Level 2 and Level 3 Integration
Optimize interchange rates with Level 2 and Level 3 card processing. You can qualify for lower B2B processing costs and send detailed, line-itemized data back to customers who pay with government-issued purchasing cards.
Comprehensive Reporting
Increase payment visibility and track financial health through enhanced reporting. Automatically post-back payment data to reduce time spent on reconciliation. Use enhanced analytics and online reports to measure key metrics and make real-time decisions about your business. Track Sales, Transactions, Authorizations, and Refunds.
Ready to integrate payments into your ERP software?
Connect with a Fortis Guide to explore how we can strengthen your business and empower scale.
Other Ways to Connect With Us